So I know it's not quite fall yet, thanks to my hubby for reminding me this week that we still have a couple weeks of summer left. But since I want you to be fully prepared for fall and all of the delicious food that comes with it, today I'm sharing a cake that just screams fall.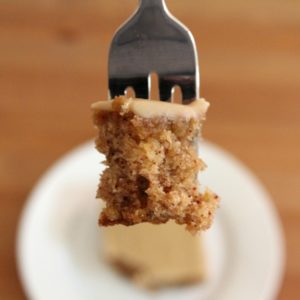 This Oatmeal Cake is another recipe from my hubby's mom. Now don't let its plain name fool you. This cake is full of flavor and is incredibly moist. I don't know if mentioning moist just once is convincing enough. This Oatmeal Cake is what a moist cake dreams of being.  The recipe starts off by soaking the oats in boiling water until they are soft and you basically have a bowl of cooked oatmeal. Then once the oats have absorbed all of the water, the oatmeal mixture is then added to the batter just prior to the dry ingredients.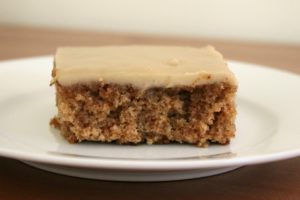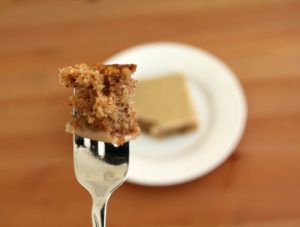 We can't forget about the Caramel Icing. It comes together quickly on the stove after the cake is done baking and pour it over the cake while the cake and icing are still warm. As it cools it hardens nicely.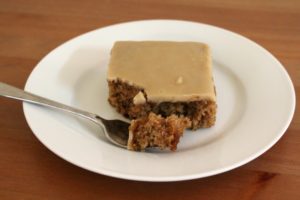 What are some of your favorite things for fall? I talked about new fall candles in my post last Saturday.
Oatmeal Cake with Caramel Icing
This recipe calls for a 9×13 pan and because of how moist the cake is I wouldn't try to modify it to be a layer cake.
Ingredients:
Cake:
1 cup old fashioned oats
1 and 1/4 cup boiling water
1 cup brown sugar
1 cup sugar
1/2 cup unsalted butter, softened to room temperature
2 large eggs
1/2 teaspoon vanilla
1 and 1/2 cup all-purpose flour
1 teaspoon baking soda
1/2 teaspoon salt
1/2 teaspoon cinnamon
Icing:
1/2 cup unsalted butter
1 cup brown sugar
1/4 cup milk
1/2 teaspoon vanilla
2-3 cups powdered sugar
Directions:
In a small bowl, pour boiling water over the oats and let stand for 20 minutes.
Preheat oven to 350 and spray a 9×13 inch pan with non-stick spray.
In the bowl of a stand mixer, cream sugars and butter until fluffy. Add eggs and vanilla and mix until combined. Mix in oatmeal.
In a separate bowl, combine the flour, baking soda, salt, and cinnamon. Gradually add the flour mixture to the oatmeal mixture and mix until combined.
Pour into prepared pan and bake for 28-30 minutes, or until a toothpick inserted into the middle comes out clean.
Icing: In a medium sauce pan melt butter and brown sugar. Whisk in milk and vanilla, whisking occasionally until the mixture reaches a boil. Remove from heat and whisk in powdered sugar until thick and smooth. Pour onto cake and spread until it makes an even layer. Let cake cool completely before serving.
Recipe is adapted from my mother-in-law.