Hi y'all! It's been a while since we talked but if you were sitting in my kitchen today I'd make you a cup of coffee, serve you a slice of this cheesecake, and catch up on what's going on in your life. But since we can't sit down and chat today, here's a recipe for Chocolate Chip Cookie Dough Cheesecake that is a favorite at our house.
But first I have to warn you, this cheesecake is indulgent. It all starts with a rich and creamy cheesecake that is filled with cookie dough and chocolate chips. A small slice goes a long way, which means it will last longer or let you share it with even more friends.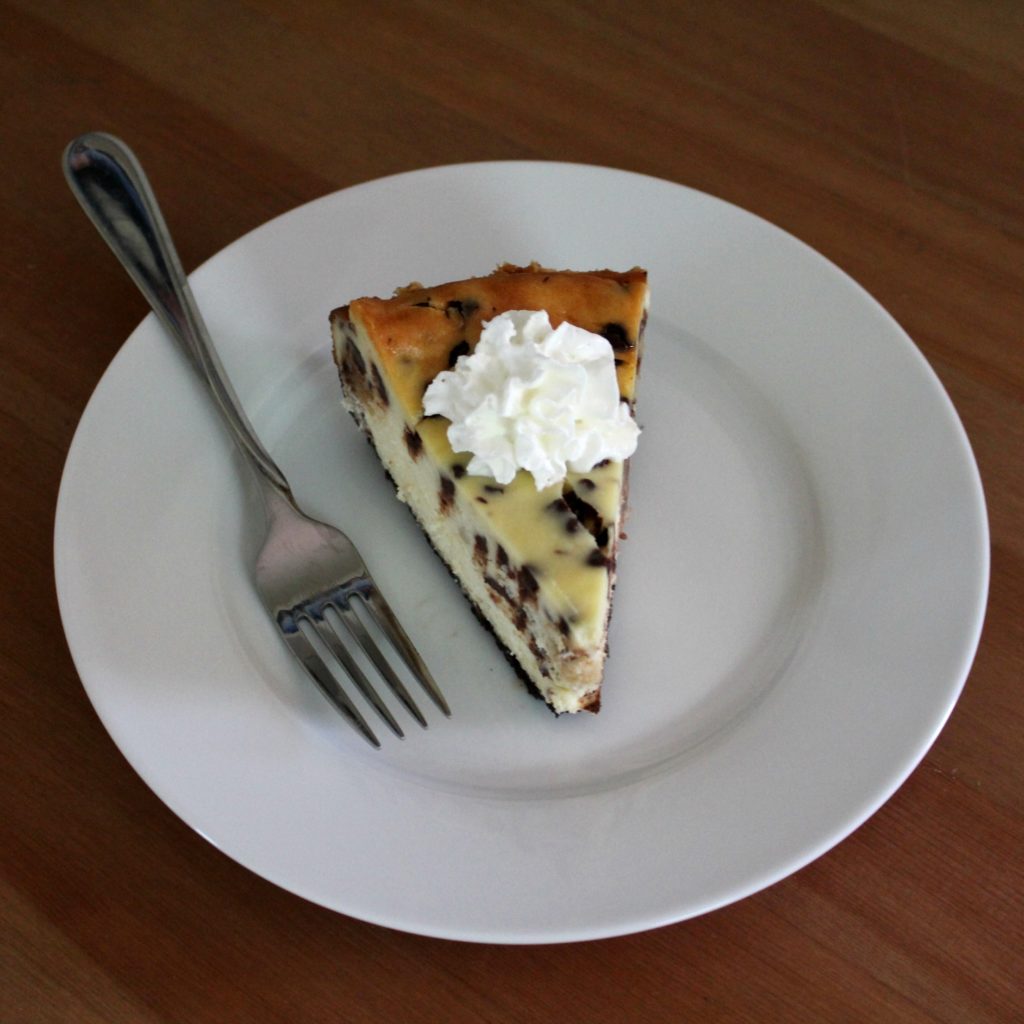 This Chocolate Chip Cookie Dough Cheesecake is hands down my husband's favorite dessert to come out of our kitchen and is what he requests every year for his birthday.
First you mix crushed Oreos with melted butter (pretty much the most amazing combo). Then you make an easy egg free chocolate chip cookie dough which you add into a super creamy and rich cheesecake.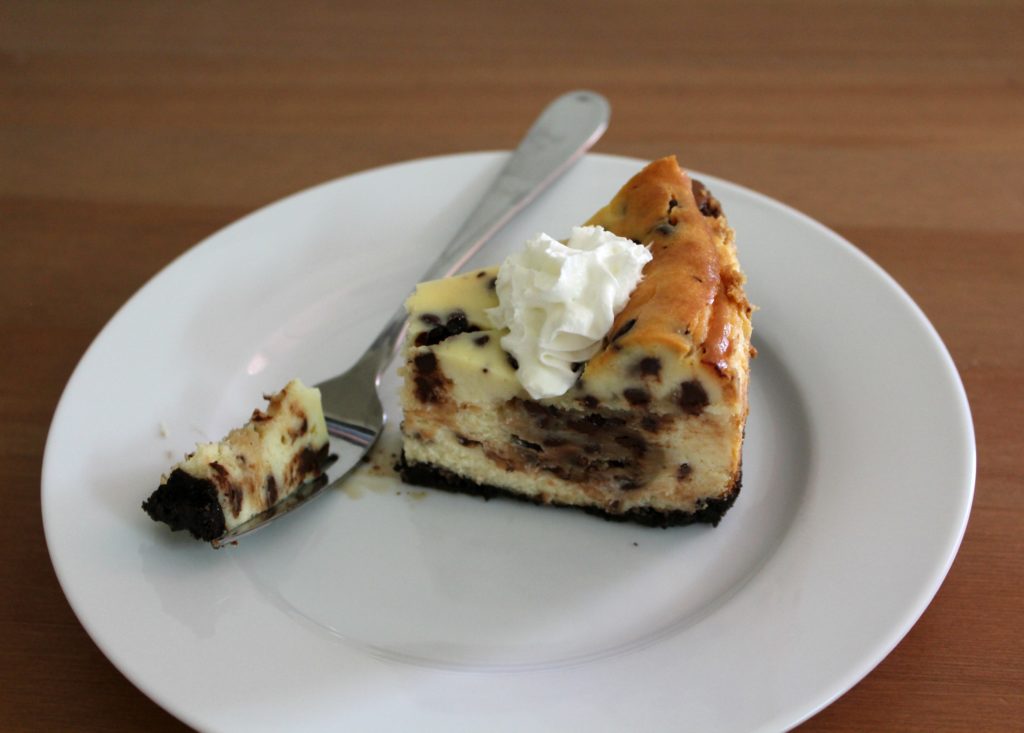 Like most cheesecakes, plan in advance, because you need to let it cool completely and then refrigerate before serving. Since this cheesecake has a couple steps, I usually prep part of it beforehand. I'll crush the Oreos for the crust and mix up the cookie dough, since it has to sit in the freezer for at least an hour before adding to the cheesecake mixture.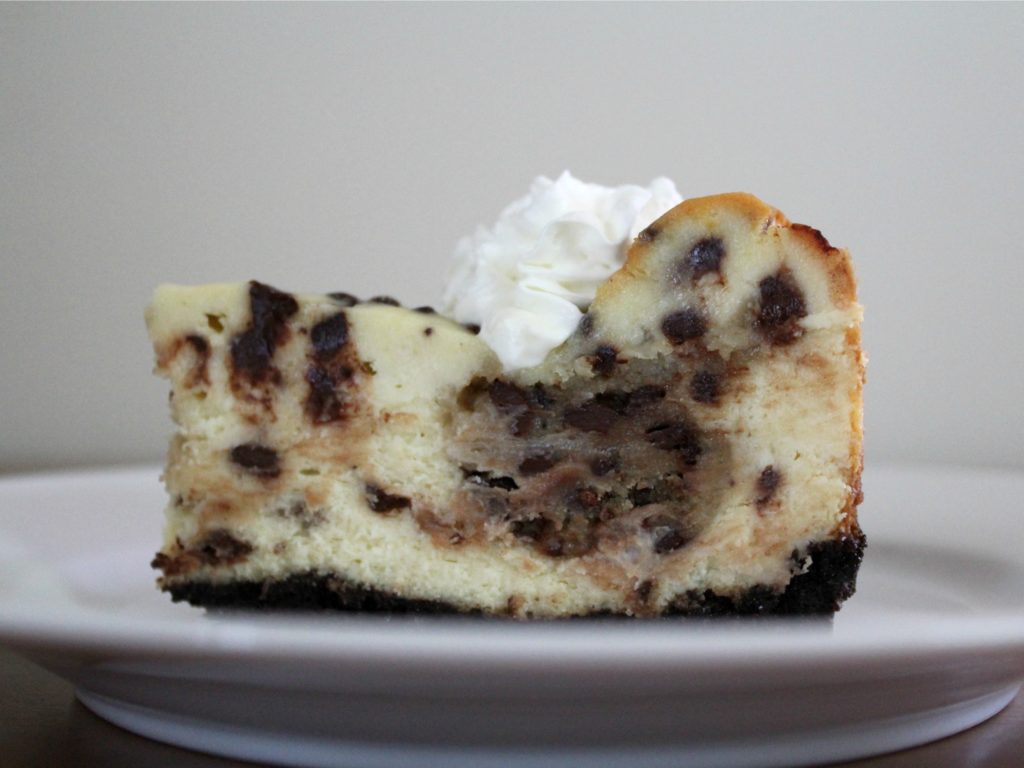 Check out that hunk of cookie dough!
Chocolate Chip Cookie Dough Cheesecake
Ingredients
Cookie Dough:
1/2

cup

unsalted butter

softened to room temperature

1/4

cup

brown sugar

3/4

cup

sugar

2

tablespoons

milk or water

2

teaspoons

vanilla

1

cup

all-purpose flour

1/4

teaspoon

salt

1

cup

mini chocolate chips

Additional 1 cup mini chocolate chips to add to the batter
Crust:
4

tablespoons

unsalted butter

melted

2 1/2

cups

chocolate sandwich cookie crumbs

about 2/3 of a normal sized package
Cheesecake Filling:
4

(8 ounce package) cream cheese

softened to room temperature

1

cup

sugar

4

eggs

softened to room temperature

1

teaspoon

all-purpose flour

1

teaspoon

vanilla

1

cup

sour cream

room temperature
Instructions
1) Cookie dough: In a medium mixing bowl or in the bowl of a stand mixer, combine the butter, sugar and brown sugar until combined. Add the milk and vanilla and blend. Mix in the flour, salt and the chocolate chips until combined. The dough will be very soft. Roll or scoop the cookie dough into small balls (about 1-2 teaspoons each and place them on a wax paper lined plate or baking sheet. Place in the freezer to harden while making the cheesecake.

Crust: Lightly grease the sides of a 10-inch springform pan. Using a food processor or a ziplock bag and a rolling pin, crush the chocolate cookies. Combine the melted butter with the chocolate cookie crumbs. Press onto the bottom and about 1 inch up the sides of the prepared pan.

Preheat oven to 325, set the springform pan on a rimmed baking sheet to catch any butter that might leak from the pan.

Cheesecake Filling: In a large mixing bowl or in the bowl of a stand mixer, beat the cream cheese, sugar, eggs, and flour on medium-low speed until just smooth. Add the vanilla and sour cream and mix on low until just blended. Do not overmix – this will lead to cracking on top during baking.

Poor half of the cheesecake batter into the prepared crust. Gently stir the cookie dough balls and the 1 cup mini chocolate chips into the remaining cheesecake batter. Pour cheesecake batter into the pan and spread the batter evenly in the pan. Bake the cheesecake for 60-70 minutes, or until the middle only slightly jiggles. Turn off the oven, prop the door open several inches, and leave the cake in the oven for an additional 30 minutes. Remove the cake from the oven and let it cool completely on a wire rack. Refrigerate until chilled (ideally, overnight). To serve, cut into slices and top with whipped cream and mini chocolate chips.
Notes
I don't recommend using reduced fat cream cheese, but if you wanted to use light sour cream in place of the regular, that would be fine.