One of my all-time favorite things to order at Mexican restaurants is a Chimichanga. They are filled with a cheesy chicken mixture, fried, and then smothered in queso. Oh man, I haven't had a good, fried chimichanga in a very long time!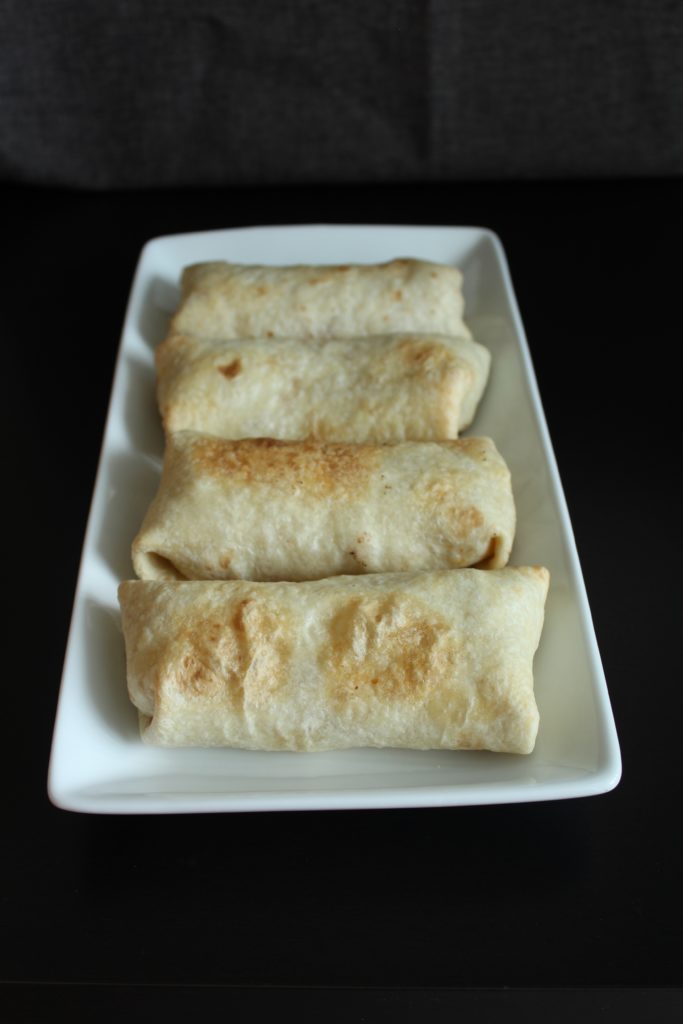 These days while I try to stay away from most fried foods, I don't stay away from recreating my favorite restaurant dishes at home. When I saw the post that inspired today's recipe I knew I had to try them (and put my own spin on it, of course).
Today's recipe calls for pre-cooked chicken and I've included the recipe for my Instant Pot Salsa Chicken below or if you don't want to cook chicken specifically for this recipe, you can even use rotisserie chicken.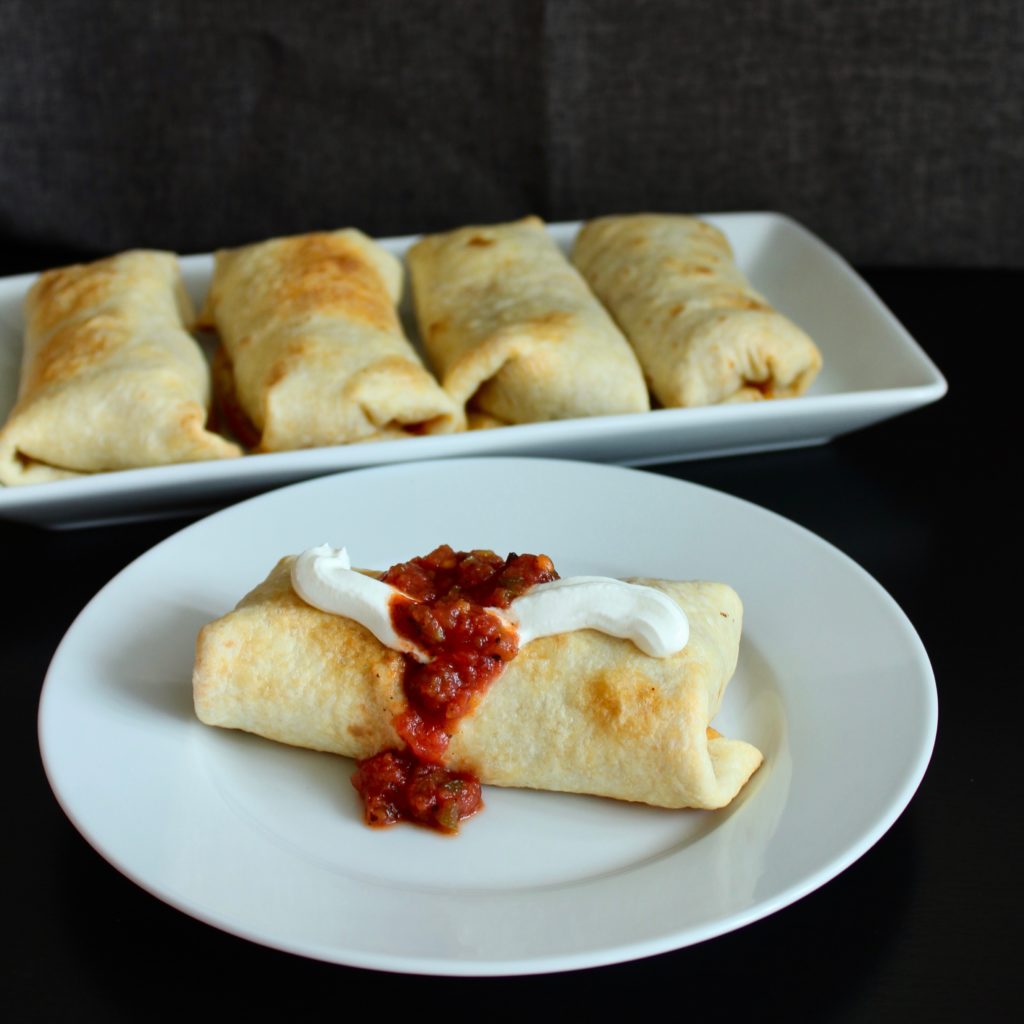 Instant Pot Salsa Chicken
Chicken
Salsa
Taco Spices
Yep, just three ingredients.
Place all the ingredients into the instant pot and boom. Chicken is done.
Now it's time to talk about assembling the star of the show.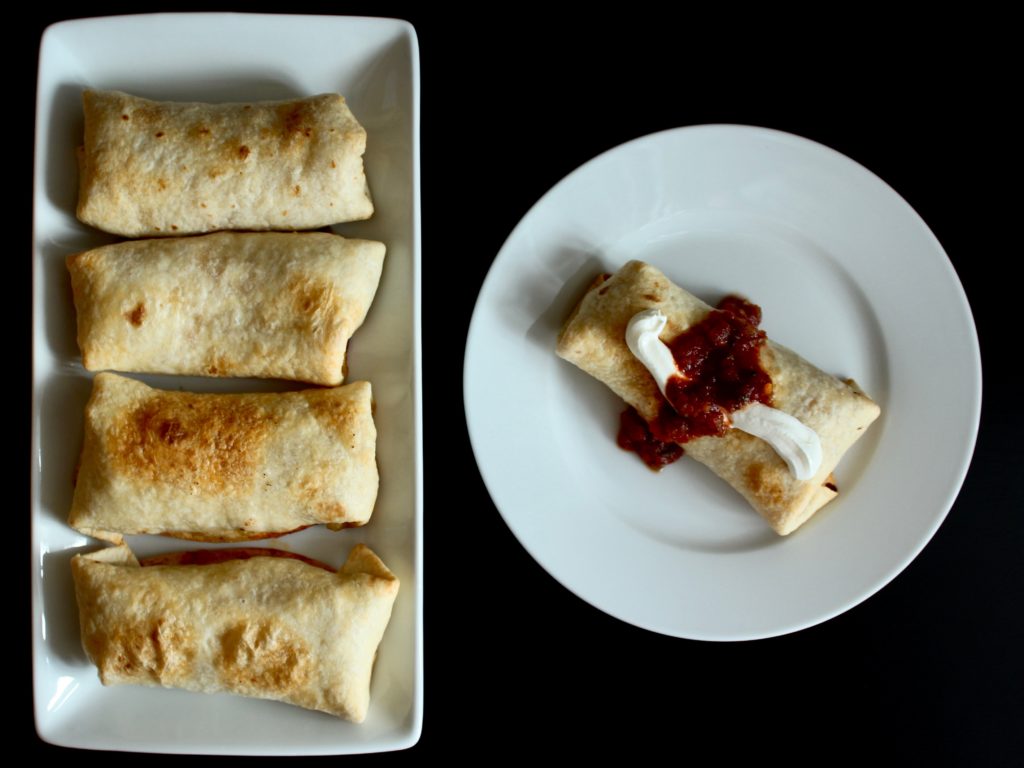 Chimichangas
Tortillas
Shredded Salsa Chicken
Cheese
Combine shredded chicken, cheese, and some of the salsa mixture left in the instant pot.
Spoon the chicken/cheese mixture into the tortilla and fold it up, don't roll it like an enchilada, fold it up like a burrito.
Here's the secret step:
To mimic some of the crispyness that a chimichanga would get from the fryer, brush the tops with melted butter before baking.
You are now minutes from deliciously baked chimichangas and the star of the dinner table!
Baked Chicken Chimichangas [with Instant Pot Salsa Chicken]
These chimichangas are full of cheesy chicken and are nice and crispy!
Ingredients
2

cups

cooked chicken

shredded

1

cup

salsa

2

teaspoons

taco seasoning

1

cup

shredded cheddar cheese

6

8-inch

flour tortillas

1

tablespoon

butter

melted

Toppings:

sour cream, guacamole, salsa, and shredded cheddar cheese for topping
Instructions
Salsa Chicken:
. If you have large chicken breasts, cut them in half and place the pieces in the Instant Pot. Combine the salsa and the taco seasoning and pour over the chicken. Place the lid on the pot, making sure the pressure valve is set to the "sealing" position, and set to Manual for 8 minutes. Once the cook time is complete, let sit for another 10 minutes before releasing the pressure. Remove chicken and shred.
Chimichangas:
Preheat oven to 400°F.

In a medium bowl combine shredded chicken, cheese, and ¼-1/2 cup of the salsa mixture left in the instant pot.

Place a spoonful of chicken in the middle of the tortilla, roll up and fold ends in and place on a baking sheet.

Brush the tops with melted butter. Bake at 400 for 20-25 minutes, or until crispy and brown.
Notes
If using already cooked chicken, add 2 teaspoons taco seasoning and 1/2 cup salsa to the already cooked shredded chicken.
Here's the taco seasoning mix I use: 1 teaspoon chili powder, 1 teaspoon cumin, 1/2 teaspoon oregano, 1/2 teaspoon garlic
Adapted from this recipe. 
---
Do you follow Sam's Dish on social media? I post new recipes, updates, and sneak peeks!