Hey Y'all!
Hope you are enjoying a few last tastes of summer this Labor Day weekend. We are spending the weekend in Delaware and had planned to spend large amounts of time on the sunny beach, but hurricane Hermine changed those plans. So we are enjoying a weekend away from home, watching football, drinking coffee and watching the rain fall. A little hurricane won't keep us from having a relaxing weekend!!
If you've been a reader for a while you might notice that the address changed and I'm now officially samsdish.com! And if that wasn't cool enough, the site also got a makeover! Bear with me for the next few weeks as I get everything tweaked just how I want it, but so far I'm loving the change!
Last weekend I was in Greenville, SC for my childhood best friend's birthday party. It was great to see her and celebrate with her! I turned the trip into a long weekend and spent some time with my family. Some of my siblings even took off work and skipped school to hang out with me on Monday before I headed home.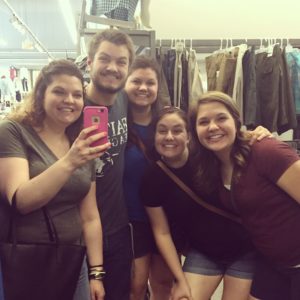 Let's talk about some of my favorite things for fall! I'm so excited for fall food! Lots of pumpkin, coffee, and hearty one-pot meals and soups are coming up.
And speaking of fall foods, the PSL is back at Starbucks! I enjoyed one this afternoon, thank you Starbucks rewards. Are you a PSL fan?
I also love all the fall smells! I haven't bought many Bath and Body Works candles for the last few years, but I think they have really stepped upped their candle game! The scents this year are amazing! I just got a Cinnamon Sugared Doughnut one last night, but it was a tough decision between that one and the Sweet Cinnamon Pumpkin. I'm trying to figure out how to justify buying more because the Marshmallow Pumpkin Latte, Toasted Graham Latte, and Pumpkin Coconut are all calling my name today!
This week I'm getting out my fall decorations and this chalkboard pumpkin might be the one I'm most excited about! I picked it up at Michaels last fall and once we get to November I like to change it to say "Give Thanks".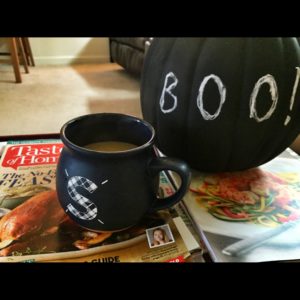 Have you tried the Mini Kit Kats yet? They are bite sized and come unwrapped, which is a dangerous thing. Never mind that it's still mid morning while I'm writing this post, I'm sitting here enjoying a hand full or two of these. I don't know why I love them so much, but they get all the heart eyes.
I can't say goodbye before I talk about one of my favorite recipes from August. Have you tried the Mini Chicken Meatballs in Tomato Cream Sauce recipe yet? They are delicious and perfect for your fall menu plans!