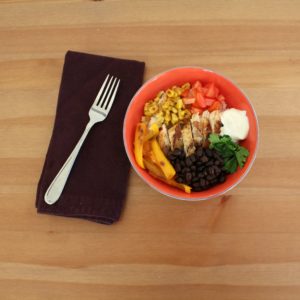 Simple ingredients come together to make a delicious and healthy meal. These Chicken Burrito Bowls are a favorite at our house and the hubby is always excited when he sees them on the menu.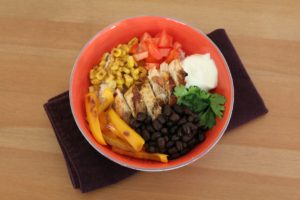 I love the flavor that the grilled chicken gives these bowls, but it is easy to customize them for your taste. Try swapping steak or shrimp for the chicken. Or leave the meat out entirely for a vegetarian option. Shh…don't tell my hubby I just suggested a vegetarian option. Any of your traditional or non-traditional burrito toppings would work here. Maybe try some black olives, bacon, shredded lettuce, salsa, diced onions or even warm melty queso.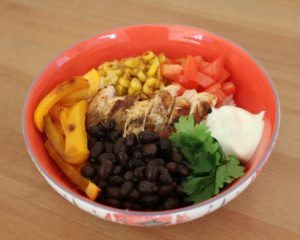 This meal is great for a family dinner and also works for serving larger groups too. Set out serving bowls with rice and all of the delicious toppings and have a build your own burrito bowl bar!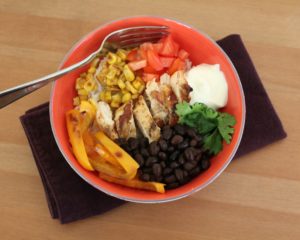 Leave me a comment below with your favorite toppings!
Chicken Burrito Bowls
This meal works well reheated and I often prep bowls with all but the cold toppings like the cheese, sour cream, and cilantro and freeze for lunches, packing the cold ingredients separately and adding once the bowl has been reheated.
 Ingredients:
Chicken:
2 pounds boneless skinless chicken breasts
1 tablespoon oil
2 tablespoons lime juice
2 cloves garlic minced, or 1/2 teaspoon garlic powder
1 teaspoon cumin
1 teaspoon chili powder
1/8 teaspoon salt
1/8 teaspoon pepper
Toppings:
1 batch of Sticky Rice
1 (15.5 ounce) can black beans, drained, rinsed and heated or 2 cups homemade black beans
1 (15.5 ounce) can corn, rinsed and heated or 2 cups frozen corn, sauted in a little olive oil
2 bell peppers sliced thin, sauted in a little olive oil
1 cup sour cream
2 cups shredded cheddar or Monterrey jack cheese
Fresh Cilantro
Directions:
Combine chicken and marinade ingredients in a large, resealable plastic bag and refrigerated for at least 1 hour or up to 24 hours. The longer you marinate the stronger the flavor.
Cook the chicken. It's delicious on the grill, but you can also cook in a skillet over medium heat with a little bit of olive oil until cooked through, about 10 minutes (about 5 minutes per side, depending on how thick your chicken is).
Top rice with a mix of toppings and enjoy!
Recipe inspired by our favorite Burrito Bowls at Chipotle!