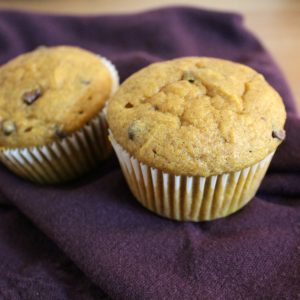 Fall officially starts this week!! Are you ready? I pulled out my fall decorations on Saturday and I'm loving how festive our house is looking. Now that it looks like fall in here it's time for fall food. Let's be honest here, I've been eating these Pumpkin Muffins for weeks and think they are the perfect way to celebrate the changing of seasons.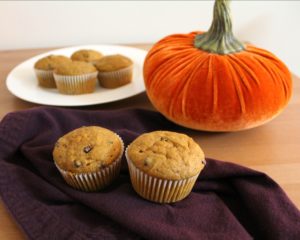 Back when I was in college I had a friend who sent me regular care packages and she often included these muffins. Care packages with homemade baked goods were always a bright spot for a college student living away from home! After I graduated she shared the recipe with me and today I'm sharing it with you. I've made a couple of modifications to the original recipe. I subbed whole wheat flour for some of the all-purpose flour and use a combination of melted butter and vegetable oil.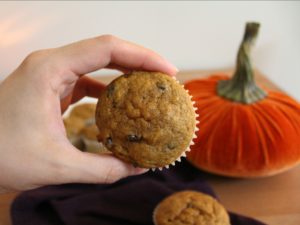 Like most muffins, the trick is to mix until just combined. I am definitely guilty of beating these muffins almost to death in my stand mixer, which leads to your muffins being dry and hard. You want moist and fluffy muffins, so mix gently.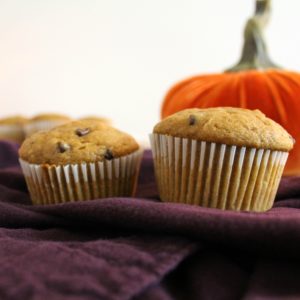 Happy Fall, y'all!
Pumpkin Chocolate Chip Muffins
Makes 3 dozen muffins
Like I said above I like to sub whole wheat flour for some of the all-purpose flour. But you can definitely use all all-purpose flour if that is what you like. You can also use all vegetable oil in place of the butter.
Ingredients:
2 cups all-purpose flour
1 1/2 cups whole wheat flour
2 teaspoons baking powder
1 teaspoon baking soda
2 teaspoons cinnamon
1 teaspoon nutmeg
1 (15 ounce) can pumpkin, not pumpkin pie filling
1/2 cup granulated sugar
1 cup brown sugar, packed
4 large eggs
1/2 cup unsalted butter, melted
1/2 cup vegetable oil
2 teaspoons vanilla extract
2/3 cup water
1/2 cup mini chocolate chips, optional
Directions:
Preheat oven to 350 and grease or line 3 muffins tins.
In a large mixing bowl, combine flours, baking powder, baking soda, cinnamon and nutmeg.
In a separate bowl, whisk together the pumpkin, granulated sugar and brown sugar until combined. Whisk in the eggs. Add the butter, oil, vanilla, and water and mix until combined.
Add the wet ingredients and chocolate chips to the dry ingredients and mix until just combined. Being careful not to overmix.
Fill the muffin cups 2/3 full and bake for 15-17 minutes, until a toothpick inserted in the center of a muffin comes out clean or with a few moist crumbs.
Slightly adapted from a recipe from my friend Tiffani.