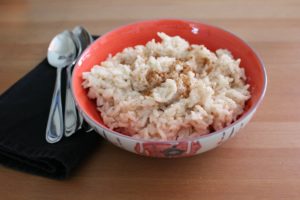 There are some recipes that remind me of my mom's kitchen growing up and this Sweet Creamed Rice would definitely be one of them. I grew up loving this dish each time my mom made it and now I love to make it in my own kitchen. As the name would make you think, this Sweet Creamed Rice isn't your typical savory side dish, but unique sides keep the dinner table interesting.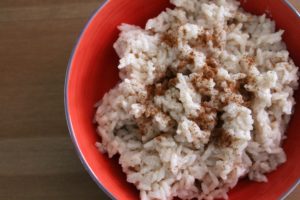 While I consider this a special side dish, there aren't any fancy ingredients or fussy instructions. Just simple, everyday pantry staples combined to make an extra special side that I love to serve alongside grilled chicken, steak or even meatloaf.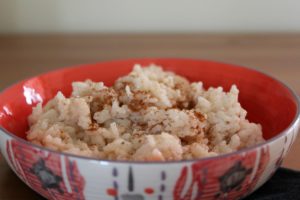 This rice is creamy and not overly sweet. It gets a subtle flavor from the vanilla and cinnamon.
Sweet Creamed Rice
Ingredients:
1 cup white rice
2 cups water1 cup
1% milk, divided
1/4 cup sugar
1 teaspoon vanilla
1/4 teaspoon cinnamon, plus extra for sprinkling
Directions:
In a medium pan, bring the rice and water to a boil. Once it is boiling, reduce the heat to a simmer and simmer uncovered until most of the water is gone, this will take about 15 minutes.
Add 3/4 cup of the milk and continue to simmer until the rice is soft, stirring often. Add more milk if needed.
Once rice is soft, add remaining 1/4 cup milk, sugar, vanilla and cinnamon and stir to combine. Cover and remove from heat and let sit for about 5 minutes before serving.
Transfer rice to a serving bowl and sprinkle with additional cinnamon.
Based on a recipe from my mom.