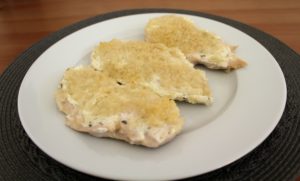 Happy Monday, Y'all! I didn't plan on taking a little break from the blog, but I am returning with some renewed excitement for all the new recipes I'm going to share with you! Can we just take a minute to acknowledge that October is almost over, how did that happen? It's time for me to get busy in the kitchen so I'm prepared to share all of my holiday recipes with you. Today I'm sharing with you a simple and healthier chicken recipe that's going to balance out all of the treats that are coming. That's how it works, right?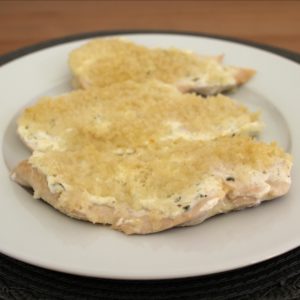 We eat a lot of boneless, skinless chicken breasts at our house. They are economical and healthy, when not smothered in cheese and bacon. When the weather is nice, you'll frequently find us marinating chicken and firing up the grill. I have to admit that I don't usually enjoy baking the boneless skinless chicken breasts in the over. Most of the time they end up being dry, tough, and just blah. But today's recipe is a game changer. I've been making this recipe for a couple years and it's one that the hubby requests. First you start with two chicken breasts that you slice in half so they are half the thickness and you end up with four thin chicken breasts. Then you cover the chicken in greek yogurt that's been mixed with Italian seasoning and parmesan cheese that gives the chicken extra moisture and lots of flavor. The chicken is then topped with some panko bread crumbs that bake up nice and crispy in the oven.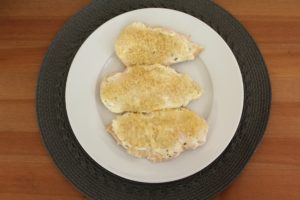 Parmesan Crusted Chicken
Slice your chicken in half, so that you have four chicken breasts that are half of the thickness.
 Ingredients:
2 boneless skinless chicken breasts (see comment above)
1/4 cup Greek yogurt or sour cream
1 teaspoon Italian seasoning
1 tablespoon grated parmesan cheese
1 tablespoon butter, melted
1/4 cup panko bread crumbs
Directions:
Preheat oven to 425.
In a small bowl combine yogurt, Italian seasoning, and parmesan cheese.
In a separate bowl, combine the bread crumbs with the butter until they are coated.
Place chicken on a baking sheet and spread each piece with 1/4 of the yogurt mixture and top with 1/4 of the bread crumbs.
Bake for 20 minutes, or until cooked through.
Recipe adapted from here.