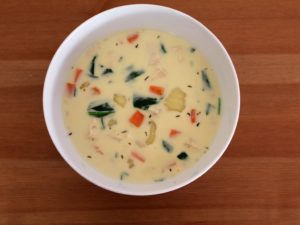 Today I have a recipe for you that is warm and hearty and perfect to combat all of the sweets that we have been eating. This soup comes together quickly, so it is perfect for those busy days around the holidays when you don't have extra time to spend in the kitchen.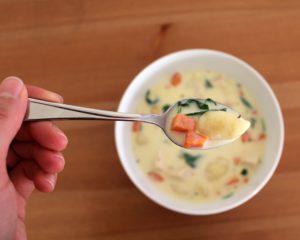 Tender bites of vegetables, chicken, and gnocchi are all encompassed in a light and creamy broth. This soup is delightfully flavorful and creamy, while not being too heavy. Another great thing about this soup is that it can be made, start to finish, in one pot. Which means less dishes to wash and more time to spend with your friends and family.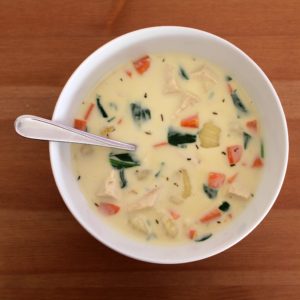 As a rule, my husband doesn't love soup, but this is one that he really likes and requests that I make! I think it has something to do with the gnocchi and the creamy broth. No matter what, a soup that we both love and that is also so simple and delicious is rare, so I'll take it.
Creamy Chicken and Gnocchi Soup
If you don't keep half and half on hand, you can sub in milk.
Note: I have yet to find a 16 ounce package of gnocchi, the last one I bought was 17.5 ounces and I used the entire thing.  
Note: I've found that the amount of chicken broth changes depending on the type of gnocchi you use, the amount of other the ingredients, and personal preference. So I usually start with 4 cups of chicken broth and add more later if needed.
Ingredients:
1 tablespoon olive oil
1/2 cup onion, diced
3/4 -1 cup carrots, diced small
1/2 teaspoon dried thyme
2 cloves garlic, finely minced
1/4 cup all-purpose flour
1 cups fat free half and half
4-6 cups low-sodium chicken broth (see note above)
16 ounce package gnocchi
1-2 cups cooked, diced or shredded chicken breasts
1 cup fresh spinach, washed and coarsely chopped
Salt and pepper to taste
Directions:
In a 4-5 quart pot over medium heat, heat the olive oil. Add the chopped onion, carrots and thyme and cook, stirring often, until the onions and the carrots are tender, about 5 minutes. Add the garlic and cook until fragrant, about 30 seconds.
Whisk in the flour and cook until lightly browned, about 1-2 minutes. Slowly whisk in the half and half and 4 cups chicken broth. Stir often while bringing to a boil. Reduce heat to medium-low and simmer for about 5 minutes, or until the soup is beginning to thicken.
Stir in the gnocchi and simmer for 3-4 minutes. (The gnocchi might absorb a lot of the liquid, add additional chicken broth if needed to reach desired consistency). Stir in the chicken and spinach and cook until heated through, about 2-3 minutes. Season with salt and pepper as desired.
Adapted from this recipe on Mel's Kitchen Café: I omitted the milk, reduced the half and half and increased the chicken broth.