I couldn't let Thanksgiving come and go without sharing a new recipe with you.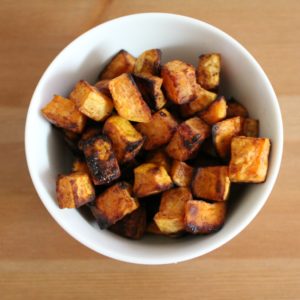 Before we get to the recipe that I'm excited to share with you today, I wanted to take a minute to share with you some of the things I am thankful for this year:
Family and friends who are like family to us.
My husband – he's worked extremely hard to provide for us this year.
Good health
Coffee, chocolate, and this blog where I get to share my love of food with you!
This year I'm not hosting Thanksgiving dinner, but I am making apple pie and pumpkin pie. I am pretty traditional with my Thanksgiving food and certain dishes have a place year after year. I love the traditional sweet potato casserole that is full of sugar and topped with butter and even more sugar. Let's be honest, any nutritional value that could be gained from the sweet potatoes is completely over taken. But today I'm here to share with you a healthier alternative.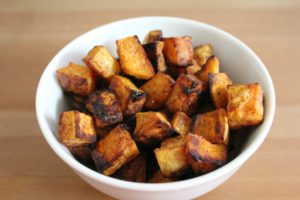 These Roasted Sweet Potatoes are sweetened with a little bit of honey. That's it, just a little bit of sweetness. And to add a little spice you'll sprinkle on some cinnamon. Yes, there are no mystery ingredients here, just potatoes tossed with five pantry staple ingredients and then roasted until tender. Now the quantities for this recipe are perfect to feed two, but can easily be increased for however many people you are serving. Just ensure you don't over crowd the baking tray or they won't cook evenly.
 Happy Thanksgiving!
Roasted Sweet Potatoes
Serves 2
Ingredients:
1 large sweet potato, peeled and cut into 1-inch cubes
1 tablespoon olive oil
1 tablespoon honey
1/2 teaspoon cinnamon
Sprinkle of salt and pepper
Directions:
Preheat oven to 425 degrees.
In a medium bowl combine the sweet potatoes, oil, honey, and cinnamon and mix until combined.
Spread the potatoes in a single layer on a large baking tray.
Roast for 25 to 30 minutes in oven or until tender.
Adapted from this recipe.