Today we have the third recipe for Sam's Christmas Treats!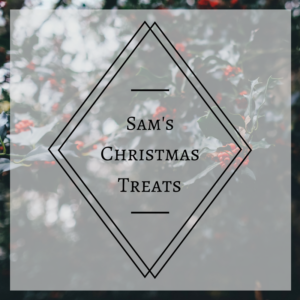 These Cranberry Bliss Bars are a new favorite that I now want to make all of the time. Can we talk about how beautiful these bars are for a minute? The creamy white cream cheese frosting is dotted with bright cranberries.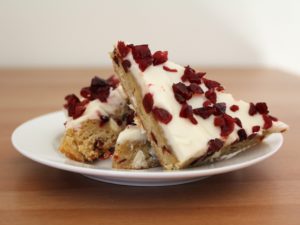 Brown sugar gives the bars lots of flavor and helps to keep them moist. They also have just the slightest bit of spice from the cinnamon and are dotted with sweet white chocolate and chewy cranberries.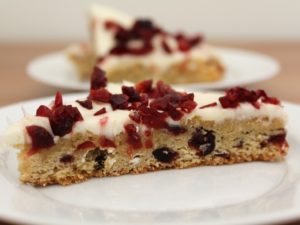 Using light cream cheese brings full flavor without all of the calories.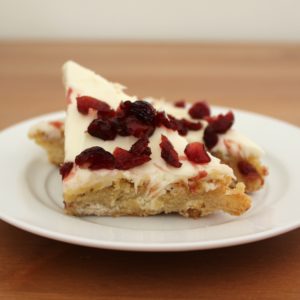 Bake up a batch and enjoy with a nice hot cup of coffee. I also happen to know that they are delicious for breakfast, or anytime of day.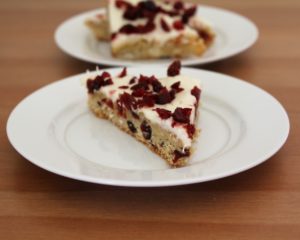 Lighter Cranberry Bliss Bars
Make sure the cream cheese is at room temperature or you will have lumpy frosting.
Ingredients:
Bars:
1/2 cup unsalted butter, softened to room temperature
1 1/3 cups packed light brown sugar
2 large eggs, room temperature
1/2 teaspoon vanilla extract
2 1/8 cups all-purpose flour
1 1/2 teaspoons baking powder
1/4 teaspoon salt
1/8 teaspoon ground cinnamon
1/2 cup dried cranberries, roughly chopped
4 ounces white baking chocolate, coarsely chopped or 2/3 cup white chocolate chips
Frosting:
8 ounces light cream cheese, softened to room temperature
3/4 cup powdered sugar
1/4 teaspoon vanilla extract
2 ounces white baking chocolate or white chocolate chips, melted
1/2 cup dried cranberries, roughly chopped
Directions:
Preheat the oven to 350 degrees F and lightly grease a 9X13-inch pan.
Bars: In a large mixing bowl or the bowl of a stand mixer, cream butter and brown sugar until well-combined. Add eggs and vanilla and beat until light and fluffy.
Add in the flour, baking powder, salt and cinnamon until well-combined.
Mix in the chopped cranberries and white chocolate until combined.
Spread the batter evenly into the pan. Bake for 18-22 minutes, or until a toothpick comes out clean or with moist crumbs, and the edges are slightly brown. Be careful not to overbake. Let the bars cool completely before frosting.
Frosting: In a large mixing bowl with a hand mixer or the bowl of a stand mixer, beat together the softened cream cheese and powdered sugar until light and fluffy, about 2-3 minutes. Mix in the vanilla and melted chocolate until creamy.
Frost bars and top with chopped cranberries. Store in the refrigerator until ready to serve.
Adapted from a recipe found at Mel's Kitchen Cafe.