Y'all, I am so excited to share these cookies with you today! Variations of these Cookies and Cream cookies were all over the internet last year, I saw them on at least 4 different blogs. I knew if that many people were talking about them and loving them that I needed to try them too!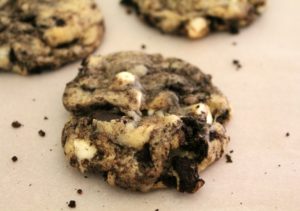 You start with a basic cookie dough batter and sub cream cheese for some of the butter and instant milk powder for some of the flour. These changes make the cookies moist and rich.
I'll admit that I had some reservations about putting store bought cookies, even though they were Oreos, inside my homemade cookies, but the combination creates some sort of magic.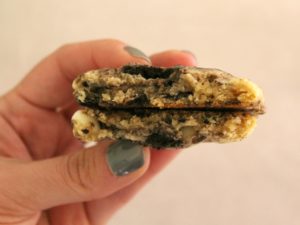 My hubby is usually pretty generic in his compliments of my cooking, so I know if he says something like "these cookies are ridiculously good" that they are, to borrow his words, "ridiculously good".

I also made these cookies for my family over Christmas and they couldn't stop eating them.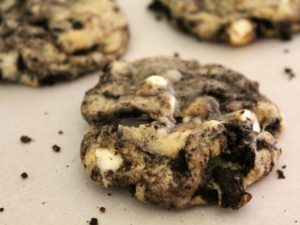 While these cookies are delicious straight from the oven with the melty chocolate chips, I prefer them once they are cooled and the Oreos are nice and chewy.
I decided that white chocolate chips are my favorite for these cookies. I've also tried them with semi-sweet and milk chocolate chips. The darkness of the semi-sweet chocolate chips competed too much with the lighter flavor of the Oreos, but the milk chocolate came in a close second to the white.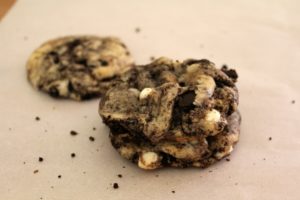 Put these on your list of recipes to try ASAP!
Cookies and Cream Cookies with White Chocolate Chips
I've used both full fat and 1/3 less fat cream cheese for these cookies both with good results. I usually break the Oreos into fourths.
Ingredients:
4 ounces cream cheese, softened
1/2 cup unsalted butter, room temperature
1 cup brown sugar
1 large egg, room temperature
1 teaspoon vanilla extract
1 1/2 cups all-purpose flour
1/2 cup instant dry milk powder
3/4 teaspoon baking soda
1/2 teaspoon baking powder
1/2 teaspoon salt
1 cup white chocolate chips
2 cups coarsely chopped Oreo cookies (about 18 cookies)
Directions:
In a large mixing bowl or the bowl of a stand mixer, cream together the cream cheese, butter, and brown sugar until well combined. Add egg and vanilla and beat until light and fluffy, about 2 minutes.
In a medium bowl, whisk together the flour, milk powder, baking soda, baking powder, and salt.
Add the dry ingredients to the wet ingredients and mix until just combined. Add the chocolate chips and mix until combined. Fold in the chopped Oreos by hand.
Cover the cookie dough and refrigerate until firm, 1 hour or overnight.
Preheat oven to 350 and line a large cookie sheet with parchment paper or a silicone baking mat.
Roll 2 tablespoons of cookie dough into balls (I use one scoop each of my #40 and #60 cookie scoops). Place cookies several inches apart on the baking sheet and flatten to about half their height (this helps them bake to a more uniform height).
Bake for 10-12 minutes, or until the edges are lightly browned and the centers are still soft. Let cookies cool for 5 minutes on the pan before removing to a cooling rack and cool completely.
Slightly adapted by these cookies from Mel and these from Joy.